Corporate
Torunoglu Seed has provided valuable services to Turkish Animal Husbandry since 1990 in a wide range of feed plants, field crops seeds and animal husbandry; our domestic and foreign sales continue.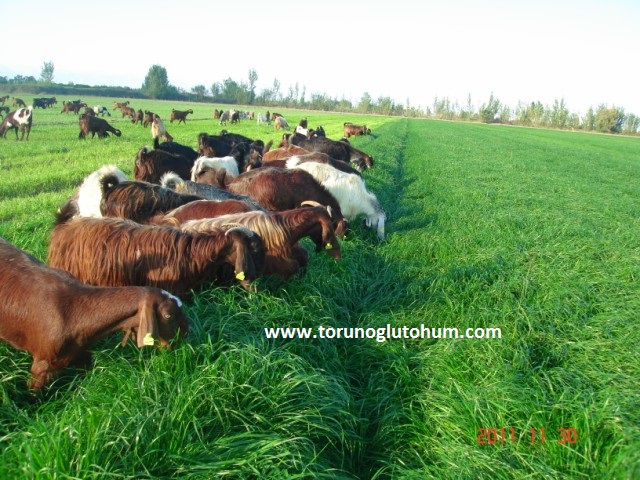 It imported thousands of high productivity breeding pregnant heifers from abroad and distributed them to many farms and pioneered the establishment of many new farms.
It provided valuable services to Turkish animal breeders for 24 years on animal health.
It worked with companies producing the best quality semen in the world for artificial insemination and genetic breeding and produced a high genetically calf from artificial insemination close to 20,000.
It led the country on artificial insemination of angus, produced countless anguses, In 2000, it realized the angus artificial insemination with the Ağrı Eleskirt District Governorate. TT showed that the meat hap in Turkey will be solved only by growing anguses and the artificial insemination.
It has done a major publication study on feed crops throughout the country. Italian ryegrass, artificial meadow pasture plants and many other feed plants have been planted by farmers over 10.000. Torunoğlu Seedling has taken innumerable animal breeding farmsers on the verge of bankruptcy with feed crops. The breeding of cattle and cattle breeds has improved. Became the locomotive of zoological production.
It provided a lot of forage plants made in the world have been made to bring as seed to our country. It pioneers the sectors of the feed crops livestock and seed.
Torunoğlu has put forward the national goat policy on goat breeding. Domestic dairy cattle breeds have proved to be better than the goat breeds with 10.000 goats distributed. In Adana, one of our country's biggest and most modern goat farms has passed by. It has conducted an intense struggle against systematic goat hostility towards our domestic goat races. He argues that goats are forest friendly rather than forest enemy. The great leader Atatürk said: "Let's go and look at the Taurus Mountains, and if you see a yoruk tent that smokes there, you know very well that no power or force can beat us in this world". Feeding goats in the mountains is a homeland defense.
Torunoğlu Seed deals with the preservation of native organic seeds that are inherited to us from our ancestors as a treasure. The delivery of these non-barbarous seeds to our right-wing parishioners is of great importance in terms of our independence and the future of our country. Imperial seed companies that sell multinational GMOs and vicious seeds have caused 160,000 farmers in India since 1997 to commit suicide by bankruptcy.
We have to protect our seeds of domestic vegetables and field crops to get rid of imperialist western seed company dependency. Torunoğlu Seed have built a seed bank by collecting these seeds which are in the hands of our people. You can contribute to this struggle by multiplying and protecting the native seeds in your hand and by sharing with our farmers and with us. Local seed swap festivals should be joined with native seeds from our villagers' hands. Seed mean the future!
Do not entrust your future to others!
The seed law, which protects the multinational imperialist seed companies and is in effect in Turkey, should be rearranged to protect indigenous producers and native seeds.
Veterinarian Cengiz Torun Genetik Islahcı